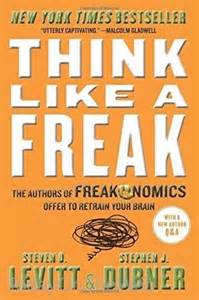 "Think Like A Freak" by Steven D Levitt and Stephen J Dubner: Loved the stats. Loved the examples. Loved the entertaining writing. The book just sped by.
What it's about: Most humans make decisions without using much original thought. We're hardwired to think a certain way, and because of it, our thinking is predictable and we have common blind spots. The authors give a few ideas of things to do to start thinking like a freak, things like saying "I don't know" when we actually don't know (which is the only freaky thinking thing I'm good at), ignore the supposed limits, think like a child, give incentives to others, getting "your garden to weed itself", and finally, the benefits of coin flipping in place of decision making.
What I thought while reading this book: I'm very typically human. I have the usual patterns and blind spots – and so I was very appreciative of the things I learned while reading this book.
And considering the usefulness of "Think Like A Freak" to me, where I went mentally after reading is a weird leap: Though I learned what "Think Like A Freak" actually outright taught me, I didn't learn more, because of the nature of non-fiction, or at least the nature of "teaching" non-fiction (as opposed to "real life experience" non-fiction).
Don't get me wrong. I love non-fiction and I read a lot of it. I've learned a huge number of extremely valuable things from non-fiction – but I believe even more strongly now that non-fiction is limited. Why? Because by leading me along a focused track, the non-fiction writer doesn't give me the mental freedom for diverse thoughts before I'm once again being hustled along by more focused facts, proofs, and logical reasonings.
When it comes to the deeper stuff of life, I find fiction the better teacher. If I head out on a mind tangent in a story, there's not the same pressure to get back to the proper lesson at hand. Theme can whisper, tempting me off or on various paths, but I don't have to listen. Even more, characters' personalities, thoughts, and actions can be profound lessons. For example, I just finished a book by Louise Penny (my next review) that blew me away on the immense value of playing the long game with patience and kindness, and how those qualities might look in a person.
No non-fiction book has ever given me as much value as some fiction. Maybe I'm a freak for being this way, but honestly, since I'm such a typically thinking human, I believe I'm probably in the middle of a vast herd – and I admit, I hope that's the case. To have fiction deeply inspiring so many people in their lives? To me, that's a beautiful thing.